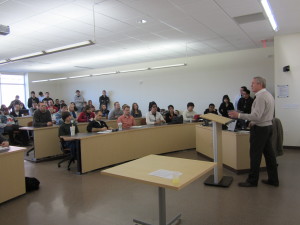 The College of Business and Economics of the University of Wisconsin-Whitewater held its annual Ethics Week this past week. The program was developed by Dr. K. Praveen Parboteeah a Professor of International Management. Parboteeah's research interests include ethics and innovation management. He has been investigating business ethics issues and their relationships with critical organizational outcomes. Equipping the next generation to be truly successful includes addressing ethical considerations. To quote Anita Roddick, founder of The Body Shop: "Being good is good business".
Ethics Week brings in real-world examples to communicate to undergraduate and graduate students the impact of ethics in the business world. Each day features a speaker who addresses the students on the impact and importance of ethical conduct in the business world. Of the four speakers who presented, one was Burlington-based Peter Scherrer. Professor Parboteeah invited Scherrer after hearing him speak at one of his business management classes last October.
A Whitewater College of Business alumnus, Scherrer spoke to ethical responsibility both in the business sense and in terms of the broader community. His presentation (titled "Importance of Personal Integrity and Honesty" by Dr. Parboteeah) drew on life experiences to communicate the actions and consequences of ethical and unethical behavior in the business world. In trying to define ethics, Scherrer suggests it is difficult since it involves both how we think and how we feel. To the 100 plus students in attendance, Scherrer left them with this closing message: "When faced with a decision on what to do, select the choice, that should your grandmother read about it in the headlines of tomorrow's newspaper, she will be proud of you."
Scherrer, along with his daughter and business partner Leslie Scherrer, own and operate The Peter Scherrer Group. The firm provides extensive professional services to the Development, Building Construction, and Real Estate Investment business sectors throughout southeastern Wisconsin. He credits their success since starting the venture about four years ago as much to their ethical practices as to their high-level professional services and client adaptability. "Regarding ethical conduct, I believe we don't just 'talk-the-talk'. We 'walk-the-walk'. Our commitment to our clients is to always serve their best interests" said Scherrer. While the construction economy struggled, The Peter Scherrer Group has completed a number of projects in the Burlington community including projects for Lavelle Industries, Quad Graphics (Hi-Liter), Cannella Response Television, LDV (Lynch Companies), Landmark Services Cooperative (Cooperative Plus, Inc.) and The Coffee House at Chestnut and Pine.